Dover International Speedway:
The Monster Mile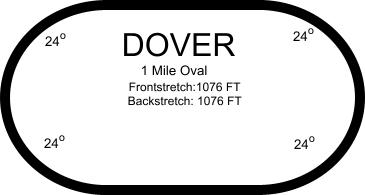 Dover International Speedway Races:

#11 5/15/2011 Autism Speaks 400 1:00PM FOX
2010 Winner Kyle Busch

#29 10/2/2011 AAA 400 2:00PM ESPN
2010 Winner Jimmie Johnson





Click here to share your Dover Experience



Dover International Speedway has made itself part of racing history and with a quick look at its notable past, it is easy to see why it is one of the foremost tracks in NASCAR.
It was opened in 1969 and envisioned as a dual purpose track. It was originally designed to accommodate both auto and horse races.
A five-eighths mile harness track that opened in the early 1960s is surrounded by the speedway.
The first NASCAR winner was Richard Petty who won on July 6, 1969.
Some of the guys with the most victories here include Brad Hanners, Luc Ouellette and Eddie Davis.
WHO?
These guys are the Jeff Gordon's, Mark Martin's and Jimmie Johnson's of harness racing.

Recent Autism Speaks 400 Winners

2010 Kyle Busch
2009 Jimmie Johnson
2008 Kyle Busch
2007 Martin Truex Jr
2006 Matt Kenseth

Recent AAA 400 Winners

2010 Jimmie Johnson
2009 Jimmie Johnson
2008 Greg Biffle
2007 Carl Edwards
2006 Jeff Burton

Dover is notoriously hard on cars, earning it the nickname, the Monster Mile.
In fact Dover has one of the coolest trophys in NASCAR and it even has a name: 'Miles the Monster'.
Miles the trophy is a concrete Monster whose right hand is designed to hold a die cast replica of the race winning car in victory lane.
Dover is not just a speedway and horse track. There is also the Dover Downs Hotel and Convention Center with several restaurants, bars and a huge casino.
The hotel has 240 rooms with 120 rooms that look out over the speedway. You could watch a race without even going to the speedway.
Since 1994 when video casinos became legal at horse tracks the money started pouring in.
This allowed Dover Motorsports to build the Nashville Superspeedway and to buy Memphis Motorsports Park and Gateway International Raceway where the Nationwide Series and the Truck Series race.
To go along with 'Miles the Concrete Monster' these tracks also have unique trophies.
At Nashville Superspeedway the winner receives a Gibson Guitar, at Memphis Motorsports Park the winner receives a bronzed Elvis statue and at Gateway International Raceway the winner receives a replica of the world famous arch.
Dover International Speedway hosted the first Cup race following the September 11th terrorist attacks in 2001.
With sponsors permission many cars had patriotic paint schemes, with some painted to look like American Flags.
In one of the more memorable moments on this track Dale Earnhardt Jr. won and celebrated his win by carrying a large American flag on his victory lap.
The speedway wasn't always concrete it started out as an asphalt speedway that wasn't very friendly to tires. The concrete track was added in 1995, making it NASCAR's first concrete superspeedway.
This made the races a great deal cleaner and more competitive, not to mention giving the Dover International Speedway its unique look.
The track itself is one mile of hair raising turns at 24 degrees, with 9-degree straits and over 2,000 feet combined on the front and backstretch.
With 140,000 seats available you are sure to find the right one for you.
Dover also boasts what has been called the "most exciting seat in sports," referring to the Dupont Monster Bridge.
This glass enclosed seating structure actually stretches over the Dover International Speedway's track, providing the fans with a head on view of the track and a truly unbelievable perspective on the racing action.
With fifty-six, theater style seats, each of which has audio access to the race on television and radio, the Dupont Monster Bridge provides a racing experience unlike that available at any other track.
With a long history of racing behind it and a bright future in front of it, it is easy to see why the Dover International Speedway is such an important part of NASCAR today!


Have Something To Share About Dover?
Do you have a great picture from a race at Dover International Speedway? A great story? An interesting fact? A tip? Anything!

You can create a page on this Web site just by filling in the form below. Then we can all enjoy together.

Thank You!
Return from Dover International Speedway to Speedway Guide