Chicagoland Speedway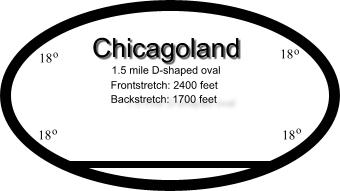 Chicagoland Speedway Race:

#27 9/18/2011 LifeLock.com 400 2:00 ESPN
2010 Winner David Reutimann






Click Here To Share Your Chicagoland Experience



Even if you weren't a fan of racing, you would still be easily impressed by the Chicagoland Speedway. Located about 30 miles from downtown Chicago in Joliet, Illinois the massive track is definitely something to behold.
This one hundred and thirty million dollar track includes seventy five thousand seats and forty suites. Built between 1999 and 2000, it is adjacent to the older Route 66 Raceway.
A huge construction celebration was held on September 28, 1999 with nearly five hundred state and local political leaders, members of the media and corporate executives.
HNTB, a world class architecture and engineering firm was commissioned to create the enormous speedway.
In 2001, the Chicagoland Speedway opened with the NASCAR Nationwide Series, NASCAR Cup Series, ARCA REMAX Series, and IRL Indy Car Series Events.
Recent LifeLock.com 400 Winners

2010 David Reutimann
2009 Mark Martin
2008 Kyle Busch
2007 Tony Stewart
2006 Jeff Gordon


The actual track could best be described as a D-shaped oval, though it is one continuous curve, as the backstretch has a considerable bend to it.
The banking in the turns is eighteen degrees, the front stretch is eleven degrees, 2400 feet long and 55 feet wide. The back stretch is 1700 feet long and banked at five degrees.
The length of the track is one and a half miles. There are also four garages that measure eleven thousand and fifty square feet with 120 bays.
The speedway has forty grandstands that are fifteen stories tall and hold 75,000 race fans. And all of this sits on nine hundred and thirty acres of land.

Kevin Harvick won the first two races at Chicago.
In the second race at the speedway, the Tropicana 400 on July 14, 2002 Kevin Harvick spun out with 66 laps remaining and was forced to come to pit road for new tires and fuel but stayed out on a fuel mileage run and won the race.
Ironically on July 13, 2003 a disappointed Kevin Harvick ran out of gas with three laps to go, giving Ryan Newman the victory, which would be Newman's third NASCAR Cup Series win of the 2003 season.
Other winners at the speedway include Tony Stewart, Dale Earnhardt Jr. and Jeff Gordon.

Besides the amazing action filled races, the speedway has been host to some other incredible events such as an RV show, concerts and the slowest race you'll see at the track, a 5 kilometer run.
With an incredible track, the Chicagoland Speedway has seen it's share of excitement, and is sure to host many more incredible events.


Have Something To Share About Chicagoland Speedway?
Do you have a great picture from a race at Chicagoland Speedway? A great story? An interesting fact? A tip? Anything!

You can create a page on this Web site just by filling in the form below. Then we can all enjoy together.

Thank You!
Return from Chicagoland Speedway to Speedway Guide