Michigan International Speedway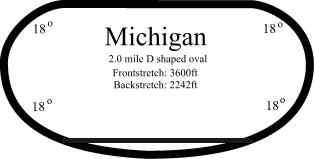 Michigan International Speedway Races

#15 6/19/2010 Heluva Good! Sour Cream Dips 400 1:00PM TNT
2010 Winner Denny Hamlin

#23 8/21/2010 Carfax 400 1:00PM ESPN
2010 Winner Kevin Harvick






Click Here To Share Your Experience



History of the Speedway

The Michigan International Speedway has been hosting races since the speedway opened in 1968.
The speedway sits on almost 1500 acres in the Irish Hills in Brooklyn Michigan.
More than 150,000 people come to the Brooklyn area to watch two exciting NASCAR Cup Series races on this wide, high speed racetrack.
It is here that you can come and watch the likes of Tony Stewart, Dale Earnhardt Jr., Jeff Gordon and Jimmie Johnson.
Drivers love racing at Michigan because the speedway is so wide and fast, they can race almost anywhere on the track.
Lawrence LoPatin spent almost $6 million on the construction of the track which began on September 28 1967.
LoPatin had big dreams for the Michigan International Speedway and for building speedways around the country.
But those dreams were too big and LoPatin's company went into default allowing Roger Penske to purchase the track for just $2 million in 1973.
It was about this time that people thought Penske was insane for buying a race track when the nation was faced with an oil crisis and the price of gas was on the rise.
Penske, being the visionary that he is, went to work improving the speedway. He also changed the name to Michigan Speedway.
His goal was to make the Michigan Speedway the best superspeedway in the world.
He increased the grandstand seating from 25,000 to over 125,000 as well as adding garages, pit suites, two ticket offices, entertainment shops and several other buildings.
What Roger Penske did for the Michigan Speedway, built the reputation that it has today.
In 1999 the track was sold to International Speedway Corp. ISC added back the 'International' to the speedway's name and continued the tradition of constant improvement.
In 2000, a 10-story high grandstand was built that added almost 11,000 more seats.
In 2005 the AAA Motorsports Fan Plaza was built on 26 acres behind the main grandstand.
The Plaza provides fans with an opportunity to learn about sponsors, to get something to eat at the concession stands and buy driver merchandise and souvenirs.
The first NASCAR race held at the Michigan International Speedway was on June 15, 1969.
Cale Yarborough and LeeRoy Yarbrough duked it out in a classic race. They raced side by side for most of the last 150 laps.
LeeRoy crashed within site of the finish line and Cale Yarborough went on to win the race.
While Cale Yarborough was the first NASCAR driver to win at Michigan, he was not the last.
Former drivers such as Davey Allison and Dale Earnhardt Sr. have won here as well as current drivers such as Jeff Gordon and Matt Kenseth.

Race Details

Each year the Michigan International Speedway expects to host more than a half a million fans for their three race weekends for a total of seven races that will be broadcast live on TV and radio.
There will be the NASCAR Sprint Cup Races, NASCAR Nationwide Series Races, NASCAR Camping World Truck Races, IRL Indy Car Races, and last but certainly not least, the ARCA RE/MAX Races.
The Michigan International Speedway hosts two NASCAR Sprint Cup races each season, one in June and one in August.
The June race usually falls on FATHER'S DAY...hint! hint! What Dad wouldn't want to go to a race at Michigan on FATHER'S DAY...hint! hint!
Tickets to the race at Michigan on FATHER'S DAY would make a great gift...hint! hint!
So go ahead and take good ol' dad to a race at Michigan on Father's Day. It beats giving him a tie and you get to go watch the the race too!!

Recent Heluva Good! Sour Cream Dips 400 Winners

2010 Denny Hamlin
2009 Mark Martin
2008 Dale Earnhardt Jr
2007 Carl Edwards
2006 Kasey Kahne

Recent Carfax 400 Winners

2010 Kevin Harvick
2009 Brian Vickers
2008 Carl Edwards
2007 Kurt Busch
2006 Matt Kenseth


Track Details

The same man who designed the Daytona International Speedway, Charles Moneypenny, designed the Michigan International Speedway.
The track is a 2.0 mile D-shaped oval.
The frontstretch is 3600 feet in length and banked at 12 degrees while the backstretch is 2242 feet in length and banked at 5 degrees, both lead into 73 foot wide sweeping turns banked at 18 degrees.
The track has four racing grooves. Its not unusual to see cars racing in a single file line down the straightaways then fan out four wide all in different grooves when they get to the turns and then line up single file again coming out of the turns.
The wide track lets drivers pick the groove where their car handles the best.
If you are a true race fan, or if you are someone looking to understand what all the excitement is about, come to the Michigan International Speedway and sit in the stands while 43 adrenaline junky race car drivers get in their cars and duke it out at speeds approaching 200 miles per hour...all for your enjoyment!


Have Something To Share About Michigan International Speedway?
Do you have a great picture from a race at Michigan? A great story? An interesting fact? A tip? Anything!

You can create a page on this Web site just by filling in the form below. Then we can all enjoy together.

Thank You!
Return from Michigan International Speedway to Speedway Guide