#24 Jeff Gordon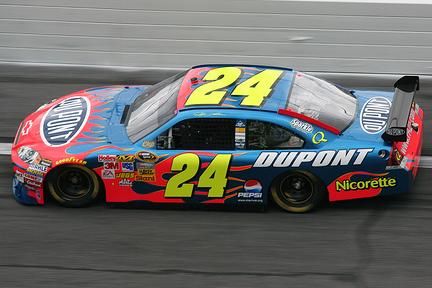 Shot by "The Daredevil" at Daytona during Speedweeks 2008. CCA 2.0


Jeff Gordon's Stats:

Born: August 4, 1971
From: Vallejo, California
Lives: Charlotte, NC
Drives: #24 Dupont Chevrolet
For: Hendrick Motorsports
Teammates: #5 Mark Martin #48 Jimmie Johnson #88 Dale Earnhardt Jr
Crew Chief: Alan Gustafson
Best Year: 4 time series Champion 1995,1997,1998,2001
Career Wins: 83





Jeff began racing at age 5. He won in everything he raced winning multiple national championship titles. In 1990 he won the USAC Midget championship. In 1991 he was named the NASCAR Nationwide Series Rookie of the year and also won the USAC Silver Crown Series championship.
Gordon won his first Cup Series race in 1994 at the Coca-Cola 600 at Charlotte Motor Speedway driving for Hendrick Motorsports. Also in 1994 he won the first NASCAR race at the Indianapolis Motor Speedway.

Jeff had a three season streak where he won at least 10 races, 1996(10), 1997(10), 1998(13).
Prior to Gordon coming into the sport Dale Earnhardt Sr. was the driver that everyone loved to hate. But for some reason NASCAR fans just did not like Gordon and Dale Earnhardt became NASCAR's favorite driver. Even now at driver introductions Gordon gets as many boo's as he does cheers.
Gordon stays very busy off the track as well. In addition to his guest hosting duties filling in for Regis Philbin on the Live with Regis and Kelly show he is very active in charitable causes with The Jeff Gordon Foundation which focuses on supporting charities that help children such as the Make-A-Wish Foundation.


Jeff Gordon's Wins
Atlanta(4)
Auto Club(3)
Bristol(5)
Charlotte(5)
Chicagoland(1)
Darlington(7)
Daytona(6)
Dover(4)
Indianapolis(4)
Infineon(5)
Kansas(2)
Las Vegas(1)
Martinsville(7)
Michigan(2)
New Hampshire(3)
Phoenix(2)
Pocono(4)
Richmond(2)
Talladega(6)
Texas(1)
Watkins Glen(4)
Return from Jeff Gordon to Speedway Guide