Las Vegas Motor Speedway:
The Diamond in the Desert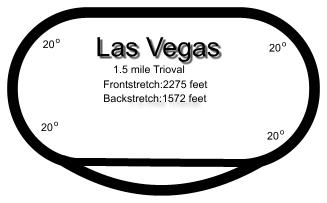 Las Vegas Motor Speedway Race:

#3 3/6/2011 Kobalt Tools 400 3:00PM FOX
2011 Winner: Carl Edwards






Click here to share your Las Vegas Speedway Experience


It was a sure BET that the Las Vegas Motor Speedway would be a hit with NASCAR fans. Construction began in 1995 and the speedway opened in 1996.
The Speedway is a huge complex made up of numerous race tracks. In addition to the 1.5 mile speedway, there is the 'Bullring', a 3/8 mile paved oval track, a 0.5 mile clay oval dirt tack, a road course and a state-of-the art drag strip.
It has 8,000 mirrors, 200 light poles, miles of steel and wire and the equivalent of 17 miles of paved residential roadway. To top off all the amenities, the infield has air-conditioned garages capable of holding 106 racing teams.
Not only has it been the host to IRL racing, many of the big name NASCAR Cup drivers have had a great deal of luck on the track just outside Sin City. Some of these include Jeff Gordon, Jimmie Johnson and Las Vegas native, Kyle Busch.


The complex is also home to racing schools such as the Richard Petty Driving Experience. Here visitors can actually take a course in race car driving and have a chance to go a few laps around the track.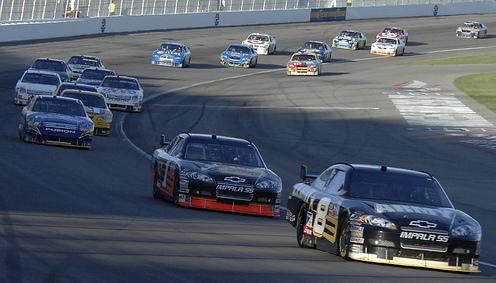 U.S Air Force photo by Airman Stephanie Rubi(www.army.mil) CCA 2.0


The Las Vegas Motor Speedway was dubbed the 'Racing Capital of the West' by Sports Illustrated and its nickname is 'The Diamond in the Desert'. Since 1998 it has been the home to one NASCAR Cup Series race each year.

Recent Las Vegas Winners:

2011 Carl Edwards
2010 Jimmie Johnson
2009 Kyle Busch
2008 Carl Edwards
2007 Jimmie Johnson



Originally built as a flat (by NASCAR standards) speedway with turns banked at 12 degrees, a frontstretch banked at 9 degrees and a backstretch banked at 3 degrees.

But the racing wasn't that good. So after the 2006 race, the track was reconfigured to what it is today. The turns are banked at 20 degrees and both the frontstretch and backstretch are banked at nine degrees to allow for more side by side racing.

Other improvements in 2006 include the relocation of pit road 275 feet closer to the stands, construction of a new 'infield' media center and the Neon Garage.

The Neon Garage is four, two-story buildings positioned in the shape of a diamond(The Diamond in the Desert) located in the middle of the infield. Race teams work on their cars and fans can watch at ground level or from above. Tickets to the Neon Garage are sold separately.

Fans of all ages are invited to tour the tracks. Running Monday through Saturday from 9 am to 4 pm, and then on Sunday from 11 am to 4 pm, fans are taken on a tour that covers all the tracks of the complex.

Visits also include one of the luxury viewing suites and access to the infield. They can even do a lap around the track, but that is subject to daily availability.

Tickets for any of the races at the Las Vegas Motor Speedway are available through the speedway's website or via a ticket exchange with another fan. They range from $25.00 for qualifying day seating tickets up to $849.00 for the Vegas Clubhouse Weekend Package seating.

There are all ranges of prices in between and the packages include tickets for various events as well as pit passes and meals depending on the package you choose.

Lodging accommodations are not included but the complex is conveniently situated near the city of Las Vegas where lodging and meal accommodations are easily found.

There are some things that a fan must keep in mind if planning on attending a race. Make sure you give yourself plenty of time and account for traffic when traveling to the speedway.

Fans may also want to include additional sightseeing time in there as well so that they may stroll among the many displays that will be set up.

Coolers and alcoholic beverages are not allowed in the stands, but cell phones are. There are ATM services available.

Pit passes can be purchased ahead of time, but remember to bring something for the drivers to sign in case you spot your favorite driver!

The Las Vegas Motor Speedway has something for everyone, from the casual fan to the most die-hard. If you are planning on visiting Sin City, make sure you include the speedway among the places to visit. Come watch your favorite NASCAR driver zip around the track and maybe even win the race.


Have Something To Share About Las Vegas Motor Speedway?
Do you have a great picture from a race at Las Vegas Motor Speedway? A great story? An interesting fact? A tip? Anything!

You can create a page on this Web site just by filling in the form below. Then we can all enjoy together.

Thank You!
Return from Las Vegas Motor Speedway to Speedway Guide