#11 Denny Hamlin


Denny Hamlin's Stats:
---

Born: November 18,1980
From: Chesterfield, VA
Lives: Davidson, NC
Drives: #11 FedEx Toyota
For: Joe Gibbs Racing
Crew Chief: Mike Ford
Teammates: #18 Kyle Busch #20 Joey Logano
Best Year: 2006 Finished 3rd in points
Career Wins: 4

Most drivers in NASCAR today like Denny Hamlin have had their opportunities to race go-karts at a younger age. Denny actually got his start at the ripe old age of 7. By the time he was 16, Hamlin was already driving stock cars and the first race he entered, Denny didn't only win the pole, but the also the race. This alone would be enough for anyone to want to be a NASCAR driver.

Between 1998-2003, Hamlin spent most of his time racing. However, it wasn't until 2002 that he started making some serious damage in the sport. After winning ten races that year, it seemed that things were looking up, but no one could have expected the type of success he built in 2003. Racing all thirty-six races that year, Hamlin gave his fans an unforgettable show...30 poles and 25 wins! This was enough to catch the attention of NASCAR as a whole, but Joe Gibbs in particular.

By 2004, Hamlin was given the opportunity to race in the Camping World Truck Series and Nationwide Series. 2005 brought success and a chance to drive his first NASCAR Cup race. By season's end, he was given a total of seven starts and in 2006, found himself with a full-time ride with the team. Hamlin's first NASCAR Cup Series victory came at the Pocono Raceway where he won starting from the pole. He enjoyed it so much that he won starting from the pole again at the second race of the season at Pocono. That year Denny was the first rookie to make the Chase, finished third in point standings and was chosen as the Rookie of the Year.

Over the past couple seasons, he has experienced some success. Maybe not exactly the type he had back in 2003, but still a positive progression. In 2007 Hamlin made the Chase but finished a disappointing 12th in the final standings.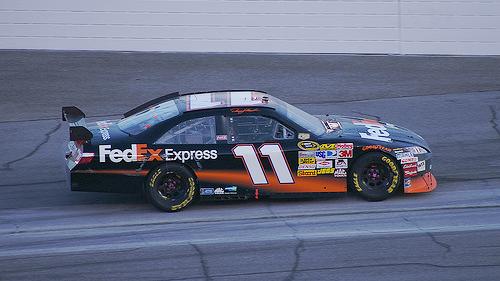 Shot by tequilamike at Daytona 2008 CCA 2.0 License


In 2008 Denny won the Goody's Cool Orange 500 at the Martinsville Speedway in his home state of Virginia
Denny supports the March of Dimes. In select races he raises awareness by driving a specially painted car and wearing a special uniform and helmet that are auctioned off after the race to support the Charity.
If he's not driving Mach 3 in the #11 FedEx Toyota, he's doing the same flying through the skies. As an avid pilot, Denny enjoys the seclusion of the air and gets a chance to reflect on his own thoughts that he normally doesn't have time for on the track.
Even though Denny Hamlin has had his ups and downs in the NASCAR Series up to this point, he's showing signs of greatness. Denny and his teammate Kyle Busch are some of the young drivers that we are sure to watch for many years to come.


Denny Hamlin's Wins
Martinsville(1)
New Hampshire(1)
Pocono(2)
Return from Denny Hamlin to Speedway Guide